Well known as a world capital of creativity, Montreal participated in the activities of Lille 2004 – Cultural Capital of Europe in the Parallel Worlds series, presenting a delegation of Montreal artists including the Farine Orpheline collective.
The company took up residence in Lille for five weeks in order to devise an urban soundwalk built on their encounters with the residents living in the heart of the Wazemmes neighborhood.  Sounds, images, "miscellaneous objects", sites and individuals were the ingredients of the proposed experience that wandered through the Maison Folie, neighborhood cafés, the "courées" and the homes of neighborhood residents.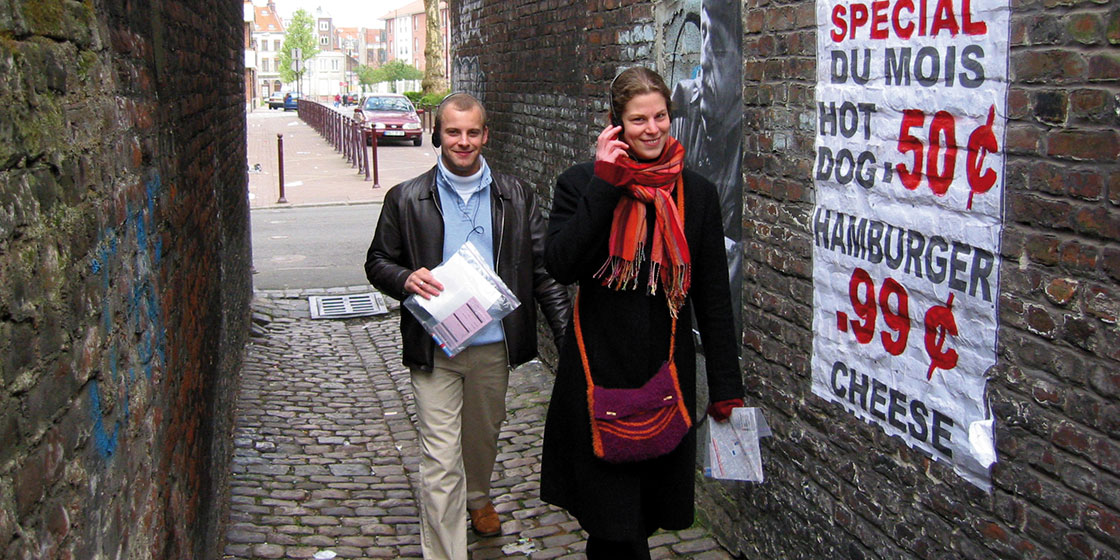 Parcours Urbain à Wazemmes
Commissioned by Lille 2004 European Capital of Culture
Lille, France
The visitor's mission was to let themselves be carried away by a soundtrack that led them from one point to another, among public and private sites of the neighborhood and provoked coincidences and prepared "chance" meetings. During their urban stroll, the visitors had to be on the looking-out for graphic installations juxtaposing urban symbols of Montreal on the walls of Lille and they were also asked to find an "important object" on their route, which was then archived as an artifact of the city.